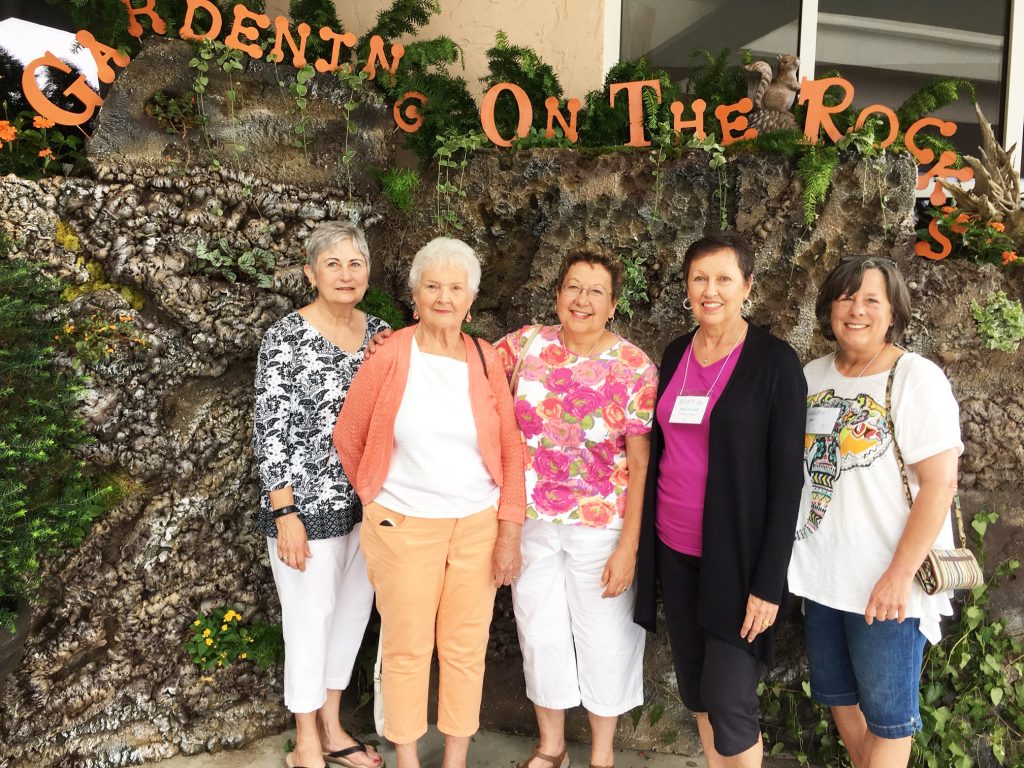 Five of the eleven VBC Master Gardeners attending the state convention in Eureka Springs. From left to right Karen Mulder, Marylou Horvath, Cynthia Lacken, Diane Percival, Marguerite Dory. 
Cynthia Lacken,
Master Gardener
It was a busy month for the VBC Master Gardeners! Early in June, eleven Master Gardeners attended the state convention, titled "Gardening on a Rock" in beautiful Eureka Springs, AR. Master Gardeners were treated to lectures, demonstrations and tours in order to provide continuing educational and creative opportunities. There was also ample opportunity to meet with other Master Gardeners from all over the state to share ideas, experiences and have some fun. Vendors were loaded with garden art, plants, pots and anything a gardener could imagine. We all came back energized!
On June 21, we hosted the Tri-County picnic at Meade Park in Fairfield Bay. Stone, Cleburne and Van Buren Counties meet annually to celebrate summer and enjoy the fellowship of other Master Gardeners. We feasted on freshly grilled burgers and every side imaginable for a wonderful lunch which included a door prize raffle as well as a bus tour of our projects in Fairfield Bay. Though it was one of the hottest days, we stayed comfortable with cold drinks and fans in the picnic shelter. A large dessert table and hypertufa demonstration added to the fun afternoon.
For a real treat, visit the Butterfly Garden in Ed Leamon Park, Fairfield Bay. It is currently in full bloom with many plants reaching over five foot tall. There are flowers in almost every color imaginable and the butterflies will take your breath away!
2016 classes will soon be forming and we hope to add new members to our roster. If you are thinking about volunteering and are looking for an organization that provides education, new friendships, fresh air and exercise, consider Master Gardeners! For more information about the program, please contact Marylou Horvath, President, at 501-884-6934.