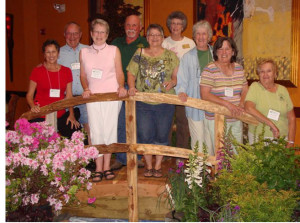 Fourteen Van Buren County Master Gardeners attended the Arkansas Master Gardener's Conference in Rogers, Arkansas, May 16-18, 2013. Setting a new attendance record, the conference was attended by 622 Master Gardeners from around the state.
Hosted by the Benton County Master Gardeners, the State conference provided natural and cultural events, including tours of local gardens, informative seminars, a trade show, a silent auction and transportation to Crystal Bridges, Compton Gardens, Peel Mansion and the recently opened Museum of Native American History.
Guest speakers were Scott Eccleson, Director of Facilities and Grounds at Crystal Bridges and P. Allen Smith, award-winning designer, gardening and television personality. Each of the Master Gardeners attending said that the conference was a great educational and cultural experience. For information on becoming a Master Gardener contact Eleanor Hilsenrath, President of VBC Master Gardeners at 501-884-3884.