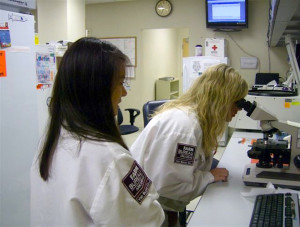 Farm Bureau's annual banquet was attended by several hundred members county-wide. An evening of good food and good company, during which many community members were honored for their life's work, Ozark Health was also honored for its gift to the community through its annual MASH program. It was an opportunity for the company to express its pride in heavily sponsoring such a worthwhile project. Cindy Wilson, active member of the Van Buren County Farm Bureau Women's Committee, commented that those in the community audience were enlightened regarding the MASH program and the opportunities to which students are exposed.
Ozark Health's MASH director, Rebecca Bradley, was asked to be a guest speaker at the meeting. MASH was described as a truly collaborative effort, involving the participation of dozens of Ozark Health employees, supportive medical staff and local businesses. Students learn, in a protected environment, the exciting elements of, and the toll required by, different areas of health care. Many, upon completion, find themselves a step closer to a life long profession. Several of today's vital Ozark Health employees found their start in the MASH program. As an added benefit, it is believed that serving professionals take a more personal interest in customer care when they are serving the community in which they also live.
The Annual MASH Director's Meeting, sponsored by UAMS, was attended by Ozark Health's MASH directorship on November 16, 2012. Attended by directors from all over the state, it was a time of review and planning for 2013's MASH experience. Ozark Health's MASH program is scheduled for June 10 through 21. Edna Prosser, CNO, has given permission to consider a one-day field trip to UAMS this year, where students can participate in very high-tech skills labs. We are looking forward to another great year with our MASH program.