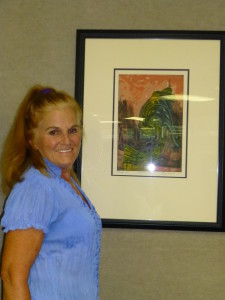 Mary Shelton returns to Fairfield Bay Library with her Lithograph and Etchings Exhibit.
This exhibit is available now through late Nov.
Mary raised her children and worked as a hairstylist for 35 years and then attended college to study art. She is a versatile artist and is accomplished in painting with oils, watercolor, and the pen and ink medium. Mary also studied various techniques used in Fine Art Printmaking.
Mary was born the eighth of thirteen children to Joseph Bernard Luebker and Mildred Zimmerman Luebker. She and her siblings were raised with a Catholic background in a rural setting near Stuttgart, Arkansas.
Mary is the wife of Larry Ray Shelton, the mother of Melissa Crawford and Christopher Alan Barkley, and the stepmother of Rita Lynn Ward and Dawn Souter.
Mary places her major concentration on the art elements and principles of design and how they may be applied to present her subject as she works.
When Mary paints, she limits her color palette to primary colors. This exhibit will explore several techniques that she has used in Printmaking. She has used both Intaglio and Lithography in these works and employed multiple press passes, Chine Colle and Aquatint as well as some four color process pieces that have been printed in registration. Most of the pieces will be forms of Monoprints.
You can contact Mary at 501-988-2573 or email her at: [email protected].