March 3rd: Ladies Night out – Dinner and a Movie, Proposal!, 5-9pm
Dinner at 5:30. Movie to follow.
Tickets $15.00
Invite a first time guest and save $ 5.00.
March 11th: Brick Field's Concert, 6pm.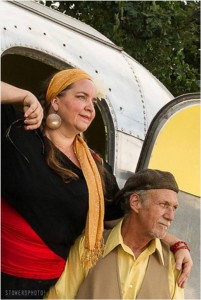 Meet the group the Nashville TN Blues Society calls "An Unleashed cleansing of the soul!" NCAFA&E proudly brings you the March 11 performance at the Fairfield Bay Conference & Visitor Center of Brick Fields Band of Northwest Arkansas. "Brick Fields" has been pouring out the Spirit on blues stages and everywhere in between with their Ozark Gospel Blues since 2006. The gifted vocalist Rachel Fields, often called "Brick," has been said to move an audience to heartbreak and joyful laughter all at the same time along with the anointing guitar compositions elevating from her husband Larry Brick, at her side. See http://www.ncafae.org for more!
Admission is free. Donations will be accepted.
Sponsored by the NorthCentral Arkansas Foundation for Arts & Education and The Arkansas Arts Council.
March 17th: St. Patricks's Day Celebration –Open Mic Night at ENCORE
The Fairfield Bay Conference Center is hosting a St Patrick's Day Celebration in conjunction "OPEN MIC" Thursday, March 17, 2016. Open Mic will be 5 p.m. til 8 p.m. in ENCORE, off the lobby of the Fairfield Bay Conference Center. The $7. cover charge will include "home cooked corn beef & cabbage with corn bread." ENCORE'S cash bar will be available.
OPEN MIC entertainment includes our very own locals, John Foster and Greg Duggan, as they sing and play the guitar. Other special guests appearing are Jeff Stansbery, who plays regularly at other venues and does a lot of his on songs in an India Folk Music genre. In addition, all others who are willing to share their talent are encouraged to take a turn on OPEN MIC. Should you wish to participate as an entertainer, let it be known. Join the fun.
Our busy season is fast approaching. If you would like to lend a helping hand at the Fairfield Bay Conference Center, please see Joyce or Wilba. We need people for helping with events, office, set-up and more. Let us know what you are avaialble to do and when. We know we can find a job for you AND we know you will enjoy working with our fun loving crew.
For more information about the Conference and Visitor Center visit www.FairfieldBayConferenceCenter.com, or call 501-884-4202.