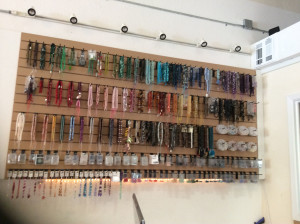 Co-owners, Kelli and Jason Kidd opened their unique business at 358 Main Street in Clinton April 15 of this year with one purpose. They provide people in the area with an opportunity to make their occasion a one-of-a-kind event. "Special occasions are our specialty," says Kelli Kidd, of Two Kidds Kreations and Occasions. Weddings, anniversaries, birthdays, retirement parties, or any event can be made special by this team.
If a future bride comes into the store with a "dream wedding" in her mind they start then to make that dream a reality. "Give us your ideas and your budget and let us create," says Jackie Sykes, office manager for Two Kidds Kreations and Occasions. From the photographer to the perfect dress and all in-between, they can bring it altogether for you. They can even provide you with a custom piece of jewelry to make your wedding or occasions more memorable. They create your special design right there, from dazzling crystals to brightly colored gems.
"We create the memories for you," says Sykes.