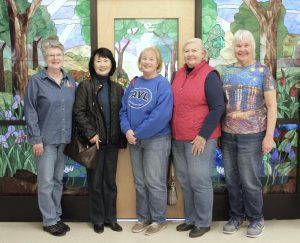 Several of the local artists hanging their work at Ozark Health Medical Center are (from left) Joyce Hubbard, Yun Kim, of Mountain View; Julie Caswell, Jan Cobb, of Edgemont; and Joyce Hartmann, Choctaw.
It's all about love. The theme for the new art exhibit at the Ozark Health Medical Center on S. Highway 65 in Clinton is "Love": love the art, love the bright colors, and love the good cheer. There are two places to find this art: upstairs near the cafeteria, and downstairs in the outpatient wing.
This exhibit will remain until May 1, and all 50 of these new art works are available for purchase at the Gift Shop daily from 10 a.m. until 3 p.m. A purchase will help benefit local charities. A portion of each sale goes to the Hospital Auxiliary, and a special exhibit of last works by D.G. Hendrickson of Fairfield Bay, deceased, additionally benefits the Fairfield Bay Animal Protection League.
Unique to this exhibit are paintings of lobster boats, barns and homesteads, hearts and flowers, red hat ladies, pigs, cats, egrets and doves. There are landscapes of Hawaii, Florida, Maine, Sarajevo, Venice and right here in the Ozarks. One will find abstracts and pensive moods, lace and beads, lilies, magnolias, and poppies.
Local exhibitors are members of the North Central Arkansas Artist League. They are Ellen Kelly and Doris Sexson of Fairfield Bay; Julie Caswell and Jan Cobb of Greers Ferry; Joyce Hubbard and Yun Kim of Mt. View; Sue Pico, Diana Foote, and Faye Rodgers of Clinton; and Joyce Hartmann, exhibit coordinator, Choctaw.
The Artist League invites anyone interested in joining to call a member or Vice President Joyce Hartmann, 745-6615. The League meets each Monday morning in Fairfield Bay to paint together. On the 3rd Monday of most months, they present a special art program or demonstration open to the public. The next program will be a demonstration by oil painter Doris Sexson on March 20 from 10 a.m. to noon at Bayside Studio in Fairfield Bay. The Artist League also sponsors workshops and exhibits at libraries and other public buildings.