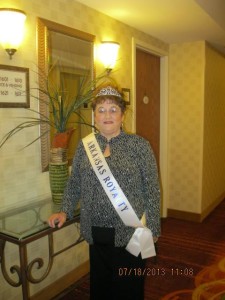 OK – not royalty like European Royalty but TOPS (Take Off Pounds Sensibly) Royalty. In March of this year I was contacted by The TOPS Arkansas Coordinator, Marcia Dohn, and she asked me if I would like to represent Arkansas at their IRD (International Recognition Days) to be held in Alberta, Calgary, Canada on July 17-29. She said she'd give me a few days to think about it because it would be an expensive trip but TOPS would pay some of my expenses. It just didn't sink in at the time. I had not even been to the State SRD (State Recognition Days) in Eureka Springs, which was up coming the next month. I had been crowned our TOPS Chapter 0294 Fairfield Bay Queen but to represent the entire state, now that was unbelievable. I did lose 45 ¾ pounds with TOPS from 2007 through 2012 but I was sure other women had probably lost more than me and also reached their goal. Apparently, the people to be crowned King and Queen for 2012 TOPS had, for one reason or another, decided to not go to Calgary and since I was the state Queen Runner Up, I was invited to attend. I was sworn to secrecy for my trip to SRD and was so anxious to tell everyone. I did tell a few pals at my chapter but tried to keep it on the hush-hush.
TOPS is a fantastic weight loss support group and upon arriving in Calgary my thoughts about the members were reinforced, especially when I asked a perfect stranger at the airport if she was with TOPS and did she have international calling on her cell phone. Now that may sound strange but I had refused to install International calling on my cell and was unable to make any calls on my cell and asked her to please call my husband to let him know I had arrived. This kind member placed the call for me and didn't want anything in exchange for making the call. I should have gotten her name, but at that time, our shuttle arrived and took us to our individual hotels.
I met so many inspiring members and their families from all over the US and Canada during my recent trip. I'll never look at a heavy or overweight person the same because after hearing their struggles and success's during the convention, it gives me a whole new outlook on body image. TOPS had 4 general sessions and during two of these sessions, we had four outstanding speakers to inspire and help us improve, not only our weight, but our health as well.
I was honored to represent Arkansas and as a new KOPS (Keep Off Pounds Sensibly) graduate and royalty I was in three different parades of success. We had over 1,800 people attend this event and I wasn't even nervous standing up in front of them and waving to the audience with much applause. I've attached a few photos of myself taken at this event but they aren't the official photos, which won't be available for another month.
If you would like to have success in your battle with weight please come to a TOPS meeting near you, the first meeting is free. Our TOPS AR0294 Fairfield Bay Chapter meets every Monday at 9:30 a.m. and weigh-in starts at 8:30 a.m. We meet at The Hart Center in Fairfield Bay. Check www.TOPS.org for other locations near you. The annual cost to join TOPS is $28 and each chapter has a small monthly fee, of which our chapter charges $2 a month to belong. See you at the next meeting. Patricia Hisel Sullivan