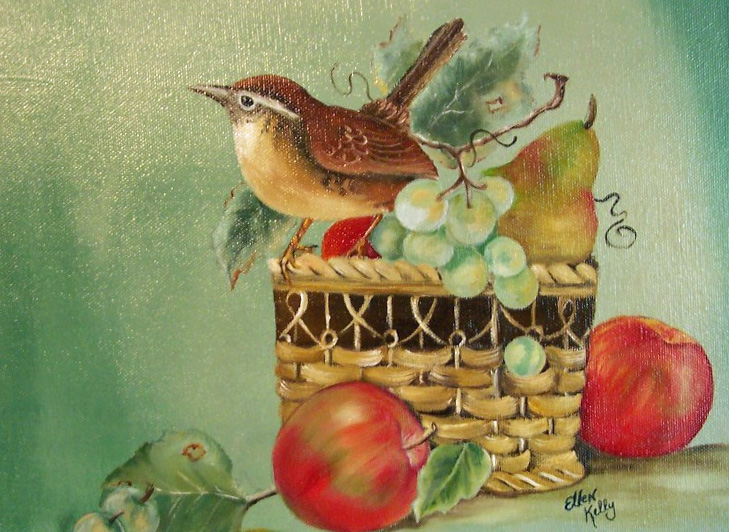 "Birds in a Basket," an oil painting by artist, Ellen Kelly, of Fairfield Bay, is an example of some of her work hanging in the current Morrilton exhibit "For the Birds."
Ellen Kelly of Fairfield Bay and Joyce Hartmann of Choctaw have 6 pieces of art exhibited in a new exhibit at the Rialto Gallery in Morrilton. Entitled "For the Birds," the exhibit features art relating to birds and their habitat. It's sponsored by the Arkansas River Valley Chapter of the Audubon Society.
More than a dozen artists submitted 35 works in a variety of media: fused glass, ceramics, jewelry, oils, watercolors, porcelain, acrylics, pastels, photography, and zentangle.
The exhibit will remain open to the public through June 15 on Fridays and Saturdays from 11 a.m. to 2 p.m., or by appointment with Gallery Director, George Hoelzeman.
The public is invited to a special open house on May 17 from 3 to 6 p.m. when awards will be given, (judged by Little Rock artist, Guy Bell). Snacks will be available, with background music provided by Bill Thurman. Also, a presentation by AGFC will be given on quail conservation. Rehabber ,Adrianne Most, will bring live birds (macaws and parrots) to help explore issues related to raising exotic birds.
Birds are perhaps the most popular and accessible wildlife in the world, particularly in Arkansas. Millions of people enjoy backyard bird watching, feeding birds, and listening to their spring melodies. Birders contribute significant data to wildlife biologists during various annual migration and nesting counts. In the last 50 years, songbird populations have begun to decline dramatically. Even as efforts to save various species, such as the Bald Eagle, have been highly successful, other species continue to decline to dangerously low levels. It is hoped that the "Art for the Birds" exhibit will raise awareness of the plight of our avian friends even as it celebrates their beauty and variety.
For more information about the "Art for the Birds" competition and exhibit, contact the exhibit coordinator at: [email protected] or text 501-416-0514.