by Jim & Phyllis Wilkins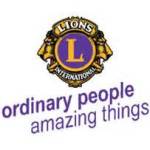 After returning from the eye doctor I was trying to think of a topic for this week's article when I turned on the TV and immediately the 1962 movie "The Miracle Worker" staring Anne Bancroft and Patty Duke was showing. "With the help of an exceptional teacher, Anne Mansfield Sullivan (Anne Bancroft) of the Perkins School for the Blind, Helen Keller (Patty Duke) learned sign language and braille. A few years later, she learned to speak. As an adult she became a tireless advocate for people with disabilities. And in 1925, she attended the Lions Clubs International Convention and challenged Lions to become 'knights for the blind in the crusade against blindness'. The Lions accepted her challenge and our work ever since has included sight programs aimed at preventable blindness." A re-enactment and transcript of her famous speech is available on the Lions Member Center @ www.lionsclubs.org.
The Fairfield Bay Lions Club meets the 2nd and 4th Thursday of each month with dinner served at 5:30 p.m. and the meeting and guest speaker at 6 pm. BINGO will return on Tuesday, March 3 with doors opening at 5:30 p.m. and the first game called at 6 p.m. Snacks and beverages are available. You must be 18 years of age to play but younger children may attend with a parent or guardian.
Please help us support our charitable efforts by coming and playing BINGO.