By Jim and Phyllis Wilkins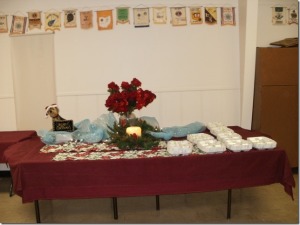 Time to get out your holiday party clothes. On Saturday, November 15 we will have our Annual Thanksgiving/Christmas Party at the Lions Den on Dave Creek Parkway. The doors will open at 5:30 p.m. and dinner will be served at 6 p.m. followed by entertainment and games. We will enjoy a feast with ham, turkey, corn bread dressing, mashed potatoes, green beans, cranberry sauce, sweet potatoes, rolls, a variety of deserts with tea and coffee. Cost for the event is $15 per member and guest with surviving spouses of former members at no charge. Reservations should be made by Friday, November 7 by calling the committee or by contacting Lion Jeannie Hooper @ 884-3202 or Lion Glenn Shunneson @ 884-7400. There will be no meeting on Thursday, November 13 and regular 2nd and 4th Thursday meetings will resume in February, 2015.
We are proud to announce the induction of two new Fairfield Bay Lions members, Lion Joyce Dobbs and Lion Trudy Gautrueau during our last meeting in October. Welcome to the Fairfield Bay Lions Club. If you would like information on joining the Fairfield Bay Lions please contact our Membership Chair Lion Robert Smith @ 253-0552 or Lion President Ed Roberts @ 884-3679.
BINGO is held each Tuesday evening with doors opening at 5:30 p.m. and first game called at 6 p.m. BINGO will continue year round at the Lions Den on Tuesday evenings (weather permitting).