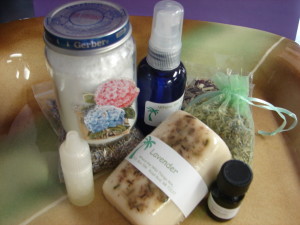 Herbs! Lavender Class was held on Thursday night, September 12. This two hour class was a wonderful experience for all those who participated. Erica Clements proved to be very knowledgeable in teaching us the value and history of lavender. She served us a glass of delicious Lavender Tea and gave each one of us a folder (lavender, of course!) containing lots of useful information to take home. As we followed along, Erica taught us many things about the value of natural herbs, focusing this time on lavender. She soon taught us how to mix and measure ingredients to make our own sachets to take home, and make a cleaning solution for sweetening up those old carpets or musty furniture. We sampled several varieties of homemade bread made using lavender, and even some cookies.
Next, Erica and her assistant, Hanna served us some Lavender Lemonade, and we learned about formulas for home remedies for headaches, anxiety, sleeplessness, bug bites, bee stings and lots more. We each received enough rosemary buds and lemongrass, eucalyptus and essential oil of lavender to take home and make all the recipes she shared with us. She gave us each a bar of the Lavender Soap she makes and sells, letting us know that rubbing some of the dry soap bar on our arms, legs and neck before going outside will ward off many bug bites, including mosquitos! I know most of us are in favor of using natural products instead of chemicals whenever possible.
Since most of you missed out on the first class, consider coming next time on September 26, 5 to 7 p.m., when we will be making and using spa products made from natural herbs, including foot soak, neck wrap and facial masks specially blended for our particular skin types. The cost for this class is $30, which is money well spent if you've shopped for any personal skin care products lately. The value of the class far exceeds the items we will make to take home, however as we will learn how to make these at home for our families and friends who will be thrilled to receive such wonderful gifts from us this Christmas season. Learning is fun and beneficial.