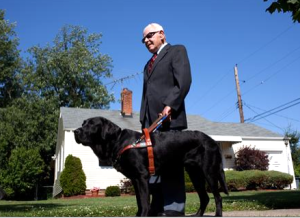 Recently, we received a letter from Leader Dogs For The Blind, which contained the following information; Over, 14,500 Leader Dogs have been provided since our founding by three Michigan Lions in 1939. Over 1,500 people are actively using Leader Dogs throughout the world today. That means that there may be people in your own community who have received a Leader Dog or other services from Leader Dogs For the Blind. The mission is to empower people who are blind or visually impaired with lifelong skills for independent travel using quality Leader Dogs. Highly effective client instruction and innovative services, can be seen in the following example.
Nicole Liebl is excited to be applying for the social work program in the fall, having never thought she would go to college (due to her vision loss). After receiving her first Leader Dog, Louise, Nichole's mind changed. "Louise has definitely played a part in my going to college. Before getting Louise, I didn't go out after dark. Now, we're out in the dark all the time. She takes me to my classes and has flown home with me on holidays. I wouldn't have done any of that on my own." To find out how you can help Leader Dogs for the Blind help others, visit their website @ www.leaderdog.org for other stories or to donate.
The Fairfield Bay Lions club meets the 2nd and 4th Thursday of each month at the Lions Den on Dave Creek Parkway, with dinner served at 5:30 p.m. and the meeting beginning at 6 p.m. Visitors are always welcome and dinner reservations can be made by contacting our Membership Chair, Lion Mary Meadows @884-6388 by the Monday preceding the meeting.
Our next regular meeting will be Thursday, August 8, when our guest will be Waymon Long, President of Eagle Pest Management. He will speak about on the latest pest problems. BINGO is held each Monday evening, with doors opening at 6:30 p.m. and the first game at 7 p.m. All-U-Can Eat pancakes or sausage & gravy breakfasts are held on Tuesday and Saturday mornings from 7:30 – 10 a.m.