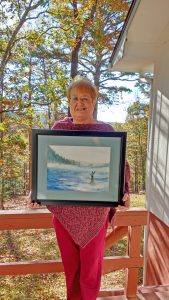 Fairfield Bay artist, Ellen Kelly, has a new, one-woman art exhibit at the First Security Bank in Clinton through January 9. The public is invited to view the art during regular business hours, with most of the work available for purchase on site.
When thinking about the exhibit for 1st Security Bank in Clinton, Kelly reflected on her art journey from childhood to the present. Favorite subjects to paint were themed…sunflowers, rolling plains, big skies as well as pastimes…fishing, nature studies, animals and country life all make up the rich tapestry of her art background. She has been and still is an observer of her surroundings and this diligence has led to self-expression through art.
Being mostly self-taught, this award winning artist captures on canvas her joy with color and brushwork. Oils have been her medium of choice, but watercolor and acrylics also help to fulfill her vision. While having had workshops from well-known artists has been instructional, there are other artists in her family. Her father loved to draw people, most notably little pencil sketches of his favorite subject, her mother. One of Ellen's great-aunts practiced china painting, an almost forgotten art form that Ellen picked up to learn color mixing and shading.
Joyce Burns, an Arkansas art instructor, assisted Ellen in developing her "eye" and nuances for shadows in a picture. Being a member of North Central Arkansas Art League has offered her many opportunities to share with other local artists. All of the above has shaped Ellen's art experiences over the years.
She hopes to be able to leave a legacy of her vision of the world that is meaningful and beautiful for others to enjoy in an artful way.