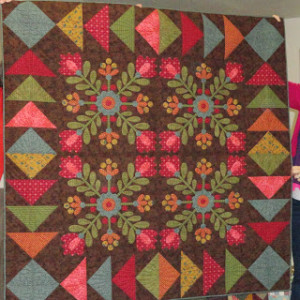 Summer is in full swing and numbers were a little sparse, but the enthusiasm and camaraderie of Piecemakers Quilters was in abundance at their monthly quilt club meeting on Wednesday, June 18. Linda LaDoux welcomed members, new members, and guests. Pamela Davis gave the treasurers report; then Victoria Banks conducted the business meeting. Jill Hardison, our Sunshine Chairperson, was unable to attend the meeting; but she asked for members to let her know of anyone who is in need of a little "Sunshine." Linda LaDoux presented the Block of the Month. Participants who had completed the May block showed off their blocks and the winner of the prize drawing was Gracie Campbell. Remember, Fall Retreat is coming up September 29 through October 2. Sign-ups begin in July at our next meeting.
Pam Davis announced "The Great Arkansas Quilt Show 3" at the Historic Arkansas Museum opening August 7, 2014, and going to May 3, 2015. All quilts were made by Arkansas quilters; and Pam has a quilt entered. There will be lectures and workshops from August to February. For more information go to: www.HistoricArkansas.org click on What's New and go to "The Great Arkansas Quilt Show 3."
July Sit and Sew will be a Clothesline wrapped project taught by Susan Moore. The program in August will be presented by Carol Robertson on how to dye fabrics. She will also have fabric to sell.
This month for Sew and Tell we saw: a flowers and bird quilt; some table runners; a purse; a weekender bag; a fabric bowl (clothesline wrapped project); a small duffle bag; bear baby quilt; a silly goose quilt in fall colors.
Victoria collected the star blocks for our "Quilts of Valor" project. From May and June, there were a total of 48 blocks were turned in. We worked on piecing together one of the "Quilts of Valor" quilts for our Sit and Sew. Those who stayed and participated worked on laying out the blocks, cutting the sashing and cornerstones; then sewing the quilt together. The efforts of everyone are appreciated with a special thank you to those who sewed—Eloise Brown, Doris Brown, Lori Griffin, and Marylou Kosmeder
Piecemakers next meeting will be July 16, 2014, at 10 a.m. at the Methodist Church in Clinton. Anyone interested in quilts or quilting is welcome to attend.