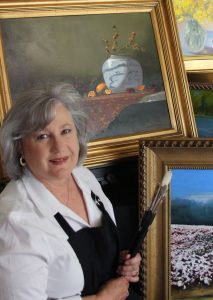 Diana is one of the artists who are new to the art gallery. She is exhibiting her still-life paintings in the "Old World Masters" style. Now we are acquainting you to this wonderful artist and want you to come and view the new artwork. Some people dream about being an artist all their lives and some are fortunate to have an opportunity to live that dream.
For Diana Shearon the dream began early in life as a young child in the rural Midwest. "I remember my first drawing lesson. It was in first grade. Mrs. Olsen showed the class how to draw an elephant using letters of the alphabet. I was thrilled"! Diana said. Junior year of high school she finally received a much asked for Christmas present acrylics paints. "That Christmas I stayed up half the night painting my first still life, the Christmas candle setting in the middle of the kitchen table". The school shop teacher taught her how to build an item that she still has today, a wooden paint box similar to one in the Sears and Roebuck catalogue to hold the paints.
College, family and work took precedence over her dream but she finally entered the University of Arkansas Little Rock in pursuit of a studio art degree. Shearon still needed to help her family and chose to obtain an emphasis in graphic design, photography and illustration. She managed to also take two years of painting with Eric Mantle at UALR, who encouraged her still life work. The degree and training were put to good use for many years doing freelance graphic design for numerous state and national organizations. While a student at UALR she received the Fine Arts Department Graphic Design award two consecutive years. Her work was recognized by the faculty with a merit scholarship the Fine Arts Club merit scholarship and selected by Aristotle staff for the Aristotle Graphic Design scholarship. Her hard work culminated with a studio art degree graduating Magna Cum Laude.
In 2009 with the last child out of college the opportunity to get back into fine art full time finally arrived. The upstairs game room was converted to a painting studio and she enrolled in painting classes at the Arkansas Art Center and taking workshops with visiting artists through the Arkansas Pastel Society. Workshops and additional drawing classes at the UALR helped her make the move to studying with some of top painters in the United States Sherrie McGraw, David Leffel, Roger Dale Brown and Timothy Tyler.
Over the last five years she has studied figure at Studio Incamminati in Philadelphia, PA and taken numerous classes at the Scottsdale Artist School. She discovered plein air painting – painting outdoors on site. Weekly plein air classes with Victoria Harvey at the Arkansas Art Center have helped Shearon find her niche as a painter and brought her dream full cycle. Painting still lifes with McGraw and Leffel has worked well with painting from life out of doors.
The rural roots of her young life draw her to landscapes and local scenes. Often she visits a site several times either sketching or painting. A thoughtful viewer of recent landscape paintings said "I believe that you grew up closely connected to the land, the feeling shows in your work". Another commented on a still life, "Your work brings me peacefulness. Thank you".
Shearon's work has been juried into multiple regional shows – Artists of Northwest Arkansas, Arkansas Pastel Society and Arkansas League of Artists. She is a signature member of the Arkansas League of Artists and has received multiple 1st and 2nd place awards for her still life and landscape work. On the national level her works have been juried into the Missouri Valley Impressionist Society National Exhibition three consecutive years in a row in Kansas City and St. Louis, MO, the Pastel Society of the Southwest National exhibition in Dallas and the Memphis Germantown Art League National exhibition. Current works are available at two local galleries: Gallery 26 in Hillcrest Little Rock, AR and the Red Door Gallery in North Little Rock, AR. Works are available for viewing on her website www.dianashearon.com
About the NCA Art Gallery:
The NCA Art Gallery's mission is to bring quality fine art with family values to our community. The exhibit is open for all artists that are 18 years of age. A selection committee choses the art and changes the exhibit bi-annually. The artists with artwork selected for the new art exhibit are the following: Painters-Judith Beale, Lea Berry, Julie Caswell, Jan Cobb, Annette Garner, Kathleen Hadley, Joyce Hartmann, Pamma Henderson Bonnie Hookman, Joyce Hubbard, Gary Johnson, Sarah Johnson, Ellen Kelly, Jun Kim, Rebecca Loftis, Sandra Marson, Sue Pico, Charlotte Rierson, Faye Rodgers, Pauline Sears, Diana Shearon, Ann Snyder, Mary Ann Stafford, Dianne Traylor, Susan Waggoner, Cathy Wester, 3 Dimensional Art-Barbara Cornett, Karen Gehl, Linda Pledger, Anne Mitchell , and photography-Brandi Vandygriff. The artists come from Fairfield Bay, Greers Ferry, Heber Springs, Conway, North Little Rock, Little Rock, Jacksonville, Edgemont¸ Mt. View, Benton, Clinton, Maumelle, Mt. Vernon, Shirley, Maumelle, and Fayetteville.
Art Gallery hours are Mon. – Fri., 9:00-4:00 (unless special events then hours are extended). The viewing of the Art is open & free of charge to the public. All art is available for purchase.
The NCA Art Gallery is sponsored by the North Central Arkansas Foundation for the Arts & Education (NCAF&E) and The City of Fairfield Bay. For more information about the Art Gallery, contact NCA Art Coordinator, Charlotte Rierson – 501-884-6100, email [email protected] or Conference Center Directors, Wilba or Bob Thompson for more information- 501- 884-4202, [email protected], 110 Lost Creek Parkway, Fairfield Bay 72088.