June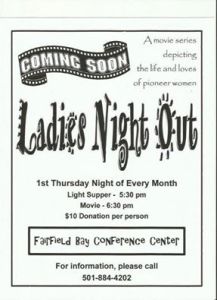 Join us for all the great events at the Conference & Visitor Center.
June 4th Ladies' Night Out—Movie & Dinner. Lite Dinner & Movie. Tickets $10. Reservations requested, but not required. Please see attached flyer.
May 19th – Sept 15th
Gomer & Patsy Show which will continue to be every Tuesday night. It will be held in our Performing Arts Theatre from 7:00-9:00 p.m. Adult tickets are $15.00, children 6-12 is $10 and children 5 and under are free.
For more information about the Conference and Visitor Center visit www.FairfieldBayConferenceCenter.com, or call 501-884-4202.