Great Things Happening at the Conference Center 501-884-4202
On-Going Events:
• Gomer and Patsy Show, June 7 – through October 25
• Open Mic, Second and Third Thursday each month
• Every Monday Morning – Visitor Welcome Coffee and Donuts
Open Mic
Thursday June 9 and June 16 – 6:00 pm to 9:00 pm
Come and join John, Jeff and Greg along with other guest artists for a fun evening of great musical entertainment. Our Encore Lounge will be open with lots of special drinks and food will be available to make for a relaxing evening for all.
Ronald Radford, Flamenco Guitarist
Sunday June 12 – 2:00 pm to 4:00 pm
NCAFA&E
Appearing in our Performing Arts Theater, Ronald Radford world known Flamenco Guitarist will be sharing with us in an extraordinary afternoon of music. The North Central Foundation For Art and Education is proud to sponsor this one of a kind concert. Please make plans to be at the Fairfield Bay Conference Center's Performing Arts Theater for this event. There is no charge for this concert. Donations will be accepted at intermission.
Gomer & Patsy Show
June 7-14-21-28, Each Tuesday Evening at 7:00 pm
Tickets $15.00 for Adults, $10.00 Youth 6 to 12, Under 6 Free
Gomer and Patsy will return with their fun and laugh filled "Gomer and Patsy Show". The show features the comedy of characters from the Andy Griffin Show and the music of Patsy Cline and George Strait.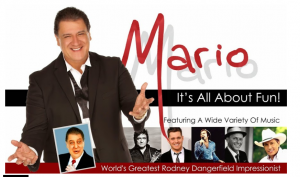 Mario – Branson In The Bay
June 23 – and each Fourth Thursday through October 27
Show Time 7:00 pm – Tickets $20.00
If you're looking for a performer who brings you the songs ranging from Frank Sinatra to Hank Williams, then I think you may have found the right place. For Mario, it's all about FUN. Mario is a popular Branson entertainer and soon to be part of the Vegas RatPack show. So don't miss out on this entertainer.
North Central Arkansas Art Gallery
Please remember that we have an extensive showing of local and regional art inside the conference center.
For Overnight Lodging and all information about activities at the center call: 501-884-4202.
Your Conference & Visitor Center Needs You
Our busy season is fast approaching. If you would like to lend a helping hand at the Fairfield Bay Conference Center, please see Joyce or Wilba. We need people for helping with events, office, set-up and more. Let us know what you are available to do and when. We know we can find a job for you AND we know you will enjoy working with our fun loving crew.
For more information about the Conference and Visitor Center visit www.FairfieldBayConferenceCenter.com, or call 501-884-4202.