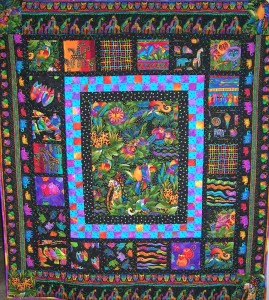 Piecemakers monthly quilt club meeting was on Wednesday, July 16th with thirty-five members and guests in attendance. The meeting doesn't begin until 10:00 am but most of the members are so anxious to see each other and socialize they arrive early. Linda LaDoux welcomed everyone; Pamela Davis gave the treasurers report; then Victoria Banks conducted the business meeting.
Linda LaDoux presented the Block of the Month. More than fifteen participants showed off their completed blocks. The winner of the prize drawing this month was Doris Brown. Ramona Johnson began taking sign-ups for Fall Retreat. Sign-up will be open for Piecemakers Members in July and August; if there is space left, it will be open to friends in September. More blocks were donated for our "Quilts of Valor" project. Ramona Johnson showed the quilt top that was assembled at the June meeting.
Eloise Brown asked us to bring our favorite quilting tool. Many of us forgot to actually bring the tool, but we were able to tell about the one quilting tool we just can't live without. Probably the most popular was rotary cutters in varying sizes followed closely by the quarter-inch quilting foot. There was an amazing variety of additional quilting tools—hemostats for pulling threads and turning fabrics, a shaper ruler with slots, a lanyard to hold scissors, bamboo stylus, gold thimble, seam ripper and magnified seam ripper, seam gauge, thread snips, light with magnifier, band-aids for a finger protector, Thread Heaven for hand quilting, blue painters tape, 1" x 6" ruler, magnetized flashlight for finding and picking up pins, LED light to mount on machine, pipe cleaner to clean inside sewing machine, Blue Do—a small piece of thin shelf liner to put between ruler and fabric to keep ruler from slipping, a small rechargeable vacuum for cleaning up threads and other sewing room bits and pieces.
Thank you Eloise for this idea and thanks to all the ladies for your great suggestions!
This month in Sew and Tell we saw: a bowl made with wrapped clothesline; a Christmas table runner; tote bag; a scrappy courthouse step quilt; a Christmas wall hanging; more table runners; a quilt made from tie silk; a crocheted owl bag; more baskets and trivets made with wrapped clothesline; a 1600-inch quilt; a silly goose quilt with feather work quilting; quilted name tags with pockets.
Sit and Sew was a Clothesline wrapped project taught by Eloise Brown with the help of Susan Moore. We were shown how to wrap the fabric strips on the clothesline cord and Eloise demonstrated sewing and shaping the project. Thank you Eloise and Susan for your time and preparation! [This technique is taught in a book called It's A Wrap by Susan Breier, That Patchwork Place, Martingale & Company 2006.]
The program in August will be presented by Carol Roberts on how to dye fabrics. She will also have hand dyed fabric to sell. Piecemakers next meeting will be August 20, 2014, at 10 a.m. at the Methodist Church in Clinton. Anyone one interested in quilts or quilting is invited to attend.