INVITATION! NCA ART GALLERY GUEST ARTIST WATERCOLOR DEMONSTRATION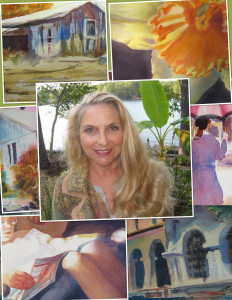 NCA Art Gallery invites you to see award-winning watercolor Artist, Cynthia Schanink, demonstrate her unique watercolor painting on July 13, 1:00 p.m., Fairfield Bay Conference Center. This free demonstration is sponsored by NCAAL – the local artist league.
Cynthia lives with her husband, Daniel, in Hot Springs Village and part time at Mt. Nebo. Cynthia is an educator with the Arts on Tour Roster of the Arkansas Arts Council, a registered Arkansas Artist, wife, mother of three children and five grandchildren, vacation rental owner, photographer and making a name for herself in west central Arkansas. She is a signature member of Mid-Southern Watercolorist and has won many art awards including first place twice in "Works on Paper" at the Cotter Plein Air Festival sponsored by the White River Artist Guild.
Her background includes attending art classes at Arkansas Tech University and four years of pottery at National park Community College. She annually attends workshops from nationally known artists. Cynthia studied watercolor with a successful artist Stanley Rames and taught workshops with him for four years. She invites participants to come study watercolor painting with her for three days and nights with meals on August 4 – 6 and Nov 10 – 12, 2015 at her "Summit House" which is located on Mt. Nebo. Visit her web page www.artsummitnebo.com for more details. She can also come to your location and share her expertise in watercolor painting with your group. She has also traveled ten years the world teaching watercolor classes on cruise ships.
Her work focuses on themes of landscape, nature and portraits. She has always been intrigued with different environments and that sense of place, which makes any particular location unique. This can include the natural geographic features of the landscape, as well as the human alternations to the land. Most of her imagery reflects the Arkansas River Valley, Mount Nebo and Lake Desoto in Hot Springs Village, where her vacation homes are located.
She attends Village Bible Church and completed her first year in Bible Study Fellowship. Her father taught her the importance of exercise, honesty and being close to God. She exercises in the morning and studies watercolor painting.
The NCA Art Gallery brings quality Fine Art to our community with good taste & family values. The artwork is open to all artists & is chosen by a selection committee under the direction of Art Coordinator, Charlotte Rierson. The Art Gallery hours are Mon. thru Fri. 9:00-4:00 unless there are special events then the hours are extended. The viewing of the Art is open & free of charge to the public. All the art is available for purchase. The artwork includes paintings, photography, sculpture, stain & fused glass, and pottery. The NCA Art Gallery is sponsored by the North Central Arkansas Foundation for the Arts & Education (NCAF&E) in collaboration with The City of Fairfield Bay. For more information contact NCA Art Coordinator, Charlotte Rierson-501-680-2741, email [email protected] or Fairfield Bay Conference Center Directors, Wilba or Bob Thompson for more information 501- 884-4202, [email protected], 110 Lost Creek Parkway, Fairfield Bay 72088.