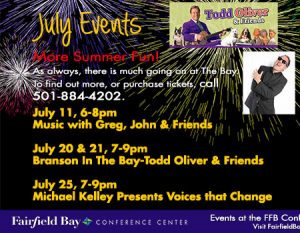 What's Happening at the FFB Conference Center
& The North Central Arkansas Art Gallery
Open Monday to Friday 9 a.m. – 4 p.m. daily
WELCOME BREAKFASTS
Every Monday thru October.
MUSIC w/ Greg, John & Friends
FREE Music in the Conference Center Lobby
Tuesday, July 11th-
6 to 8 p.m. (Encore Lounge opens at 5:30pm)
Lots of good live music and refreshments from our Encore Lounge and a chance to have a relaxed time with friends and visitors.
Thursday, July 20th, 7-9 pm and Friday, July 21st, 7 -9 pm
BRANSON IN THE BAY – TODD OLIVER & FRIENDS
Thursday & Friday, July 20- & 21st 7-9pm
Award winning comedian/ventriloquist, Todd Oliver and his amazing dog, "Irvin" from America's Got Talent and the Branson Belle in Branson, Missouri. Tickets are $20 in advance or $25 at the door. Children under 12 discounted. Benefits the FFB animal shelter.
VOICES THAT CHANGE, MICHAEL KELLEY
Tuesday, July 25th. 7-9pm
Vocal Impressionist, Michael Kelley from Mt. View, performed his music and comedy on Cruise Ships and in Nashville, Tennessee. He will impersonate many characters such as Elvis, James Brown, Mick Jagger, Kermit the Frog, The Jackson Five, Ray Charles, Dean Martin, Johnny Cash, Willie Nelson and many other stars. This is a kid-friendly show and the Conference Center is very excited to bring him to Fairfield Bay every fourth Tuesday of the month beginning May 23rd – October 24th. Tickets are $15 adults, Kids 6-12, $10 and Kids under 6 are free.
ART GALLERY EXHIBIT Open
Watch for our summer events!
We are planning some fun and entertaining events for our summer season. We want to make the summer season enjoyable for our visiting guests as well as our year round residents. Our goal is to have entertainment, food, exhibits, concerts, and both inside and outside activities that will make the summer special for everyone.
For Overnight Lodging and all information about activities at the center call 501-884-4202. For more information about the Conference and Visitor Center visit www.FairfieldBayConferenceCenter.com, or call 501-884-4202.