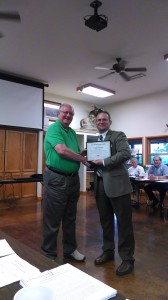 Richard Atkinson, Executive & Head Start Director for Ozark Opportunities, Inc. extends congratulations to Judge Roger Hooper from Van Buren County for receiving the "Supporter Action Award" at the 2014 Arkansas Community Action Agencies Association (ACAAA) Conference in North Little Rock.
Hooper has been a member of Ozark Opportunities, Inc. (OOI) Board of Directors since his election to County Judge of Van Buren County in 2011. He has been a very active and dedicated member in helping low-income families and individuals in his county and OOI's entire service area. His dedication is obvious; not only is he a member of the Board of Directors, which meets quarterly, but he is also a member of the Executive Committee, which meets monthly. He rarely misses a meeting even though Clinton is the furthest location from the OOI administrative office (where most Executive Committee meetings are held). When the chips were down and the agency was in jeopardy of losing several hundred thousand dollars, Judge Hooper personally made calls to various government offices to solicit support (and ultimately the agency received the funds due).
In addition, OOI's quarterly meetings rotate between each county in our service area- when Van Buren County is the host, Mr. Hooper takes the lead, secures a meeting location and provides dinner. Dinner is usually cooked by Mr. Hooper and his wife (delicious)!
When budget cuts started happening a few years back, forcing OOI to make hard decisions (one of which involved relinquishing rented office space) Judge Hooper stepped up and provided office space and utilities at no cost, so low-income residents could still have local access to services provided by OOI in Van Buren County.
THANK YOU to Judge Hooper and all of the OOI Board Members- you are an integral piece of our work and we truly appreciate your service!