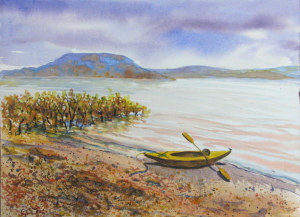 Joyce Hartmann's art was selected for inclusion in the 2015 edition of CARTI's "The Art of Survival." Her watercolor entitled "Eglantine Beach" will be featured for August 2015.
The calendar features work by artists whose lives were touched by the cancer experience, whether as a patient, a family member or a friend, an employee or volunteer. Joyce's work showed her kayak on a stretch of beach near Fairfield Bay, adding that meditation on the water amid the beauty of nature helped her get through many a dark moment.
"The Art of Survival 2015" is planned as a limited edition collector's item. Publication is anticipated in early December 2014.
Joyce has also recently received other honors and awards, including a Best of Show in Mixed Media at the Arkansas State Fair; a Best of Show in Mixed Media in the North Central District Fair; a Best of Show in Acrylics in the Van Buren County Fair; and selection in the Midsouthern Watercolorist Society's Annual juried show.