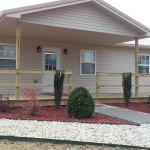 The John 3:16 Ministry Faith House for Van Buren and Cleburne County men held a dedication ceremony on Sunday, January 25, 2015. The multi-purpose room at the ministry in Charlotte, Arkansas, holds 600 people and around 500 attended the Faith House dedication ceremony.
During the ceremony 4 young men graduated. The Faith House currently has 4 occupants and can house 8 men total. Over 560 residents have graduated from the program since it opened in 2002. During the John 3:16 Winter Blast, they raised $195,000 with approximately 5,000 people in attendance. The guys have been in the Bay doing tree removal and stump grinding this week.
Some of the other work they do include catering, screen printing, birthday parties, landscaping parking lot striping, and auto body repair.
For more information call 870.799.2525 or visit their website at www.john316thecure.com.