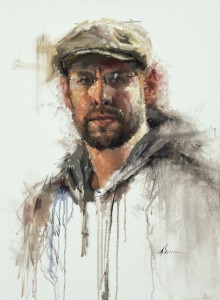 The North Central Arkansas Artist League is sponsoring a workshop by renowned oil painter, Jason Sacran, from 9 a.m. to 4 p.m. on Nov. 12 and 13 in Fairfield Bay. He will demonstrate a nocturne and a sunset painting, and provide instruction to the students in the class on those topics. While oil paints are the preferred medium, he is open to students using acrylics and other media.
Jason has a BFA in painting from Tennessee Tech University, and credits towards an MFA from the Academy of Art University in San Francisco. Jason and his family live in Fort Smith, Arkansas where he was the curator for the Fort Smith Art Center for almost three years. In 2010, Jason became a full-time artist/painter and part-time instructor for the University of Arkansas, Fort Smith. Jason is also the Arkansas State Ambassador for the Portrait Society of America. He has had several exhibitions and been awarded many times for his works and achievements, including a first place award in the Portrait Society of America's 2011 Members Competition, Best of Show in the 2010 Wisconsin Plein Air Painter Association Annual Competition and Best of Show in the 2010 Winthrop Rockefeller Institution Invitational. Although known for his figurative and portrait work, Jason is quickly rising as a top plein air painter, and considers plein air one of, if not his favorite subject.
Plein air is a French term meaning that the painting was done outdoors, at the actual scene that was painted. Jason has recently won many awards at these events, including both 1st Place and People's Choice at Cotter, AR in the White River Plein Air Competition, and Best in Quick Draw as well as Fine Art Connoisseur Award of Excellent at Carmel, CA Plein Air Invitational.
About his work, Jason says, "In general, my work is about the process of creating by painting subjects that evoke a mood or feeling introspectively. I am interested in documenting things of today, mostly with overlooked or even forgotten aspects of everyday life – scenes we pass by every day, objects we often use, people we know well, but hardly ever think twice about. In the chaos of daily life, I believe we all take the simple and familiar things for granted. Sometimes they are the very things we come to miss."
For further information about Jason, check out his web site at http://jasonsacran.com/ . Anyone wishing to take this workshop can contact Joyce Hartmann, NCAAL President, at 745-6615.