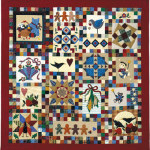 A happy group of quilters started a New Year of quilting at Piecemakers monthly quilt club meeting on Wednesday, January 21, 2015. Susan Moore, the new vice-president, welcomed members and a guest. Since Pam Davis, the treasurer, was excused, Susan also gave the treasurers report. Our new president, Eloise Brown conducted the business meeting.
Linda LaDoux introduced the 2015 Block of the Month. They are basket blocks and we will have a different basket block each month. There will be twelve 10-inch (finished) blocks. She handed out the directions for block 1 and also the setting instructions. Bring your completed block to the meeting in February.
Ramona Johnson discussed our Winter Retreat, which is scheduled for March 2nd to 5th, 2015 at Mount Eagle. Rene Riggan gave an update on our Quilts of Valor Project. Rene also announced that Daisy Patch will be having a Quilt Show in Heber Springs as part of their Springfest on April 24 & 25 at the Cleburne County Fairgrounds. Admission will be $5. They are looking for quilt submissions. The quilts can be submitted to be judged or non-judged. Bernadine Walters presented information about the Van Buren County Extension Homemakers Quilt Show, which will be held November 13 & 14. Quilts need to be turned in on November 10. They are asking Piecemakers to help make the quilt show a success this year.
Eloise presented a gift to Victoria Banks in appreciation for her service as Piecemakers President for the past two years. Thank you Victoria for all you have done! The next item of business was to plan the club programs for the year. First we needed to find a Program Chair to coordinate the programs scheduled. Bernadine Walters consented to take on that responsibility. We then scheduled the programs and Sit and Sew projects for the year. The final business was to organize the Christmas Party committee. Our 2015 Christmas Party Committee is Lori Griffin, Gracie Campbell, Robbie Odell and Ida Holt.
Sew 'n' Tell this month was all quilts. We had a string quilt; a Grand Illusion quilt (a Bonnie Hunter Mystery quilt); a Block Party quilt (a BOM from Rene's shop); and a Block Party quilt top; a paper-pieced diamonds quilt; a bear quilt; a red, white & blue stars quilt top; a jelly roll quilt; a 2014 BOM quilt top in Christmas colors.
Piecemakers next meeting will be on Wednesday, February 18, 2015 at 10 a.m. at the Methodist Church in Clinton. We invite anyone interested in quilts and quilting to attend.