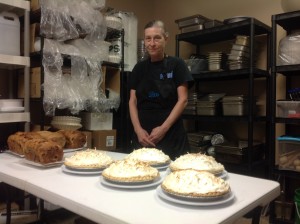 Jack's Convenience Store/Restaurant, on Dave Creek Parkway, is proud to announce old fashioned, homemade pies and breads. Diane Murphy has been baking for over 40 years and is glad to bring her specialties to the Bay. Diane bakes on Monday and Thursday and orders can be taken all week long.
The pies that are available are: Chocolate, Coconut, Lemon, Key lime, Peanut butter and more to come. The breads available are: Honey wheat, White, Pumpernickel, Cinnamon raisin, Sour dough and Garlic
The pies and breads are not pre-sliced but the pies are available by the slice. Deli sandwiches are now being served on soft wheat and white rolls.
The cost of the pies are $18 for a whole pie or $2.25 per slice )except Key lime and peanut butter, which is $2.50 per slice). Bread prices are: Cinnamon raisin $4.99, Sourdough $4.58, Garlic $3.99 and Honey wheat $2.99.
For more information call 501.884.6402.