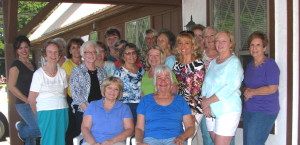 Members of the NCAAL stand in front of Bayside Art Studio and Gallery, located in the Greenwood Building in Old Town Fairfield Bay. They are (seated, from left) Joan Bland, Vice President; Joyce Hartmann, President; (standing) Pam Henderson, Lea Berry, Treasurer Bonnie Hookman, Kathleen Hadley, Diana Foote, Connie Hood, Sue Pico, Sandra Marson, Karen Brownson, guest artist and demonstrator Amy Hill-Imler, Dianne Traylor, Jeanne Homuth, Charlotte Rierson, Ellen Kelly, Secretary Jan Hood, Julie Caswell, and Judy Shumann.
"It's summertime!" That is the theme of a newly hung art display by 11 members of the North Central Arkansas Artist League. Located at the Ozark Health Medical Center, the exhibit features about 25 paintings depicting summer activities or travel.
You'll see paintings of Venice, Florida, Hawaii, San Antonio, Alaska, Missouri, Nova Scotia, and other favorite vacation spots. Other images include garden steps, shady ponds, dream boats, moonlit nights, and more.
Exhibiting artists are D. G. Hendrickson, Ellen Kelly, Diana Foote, Charlotte Rierson, Doris Sexson, Lea Berry, all of Fairfield Bay; Sue Pico, Clinton; Diana Foote, Holly Mt.; Judy Shumann, Diamond Bluff; Julie Caswell, Edgemont; and Exhibit Coordinator Joyce Hartmann, Choctaw.
No matter your hobby or interest, there's a story for you to enjoy at the new exhibit, located on the newly painted halls in the upper level of the hospital near the nursing home and cafeteria. Come any time during the day or evening to view the free exhibit, with all paintings available for purchase at the Hospital Auxiliary Gift Shop.
NCAAL meets each Monday in Fairfield Bay to paint together, watch demonstrations, take workshops, plan exhibits, and socialize.
For more information on the exhibit or NCAAL, contact any member or President Joyce Hartmann, 745-6615.