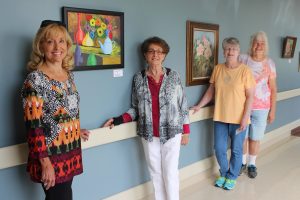 "It's Summertime" is the theme of the new exhibit hanging from now through August 22 at the Ozark Health Medical Center, Highway 65 on the south side of Clinton.
Artists hung a new exhibit at Ozark Health Medical Center on Monday, May 23. (From left) Charlotte Rierson, Doris Sexson, Joyce Hubbard and Joyce Hartmann stand by some of the 48 paintings: "Summer Teaparty" by Caroline Goettsch and "Rose Garden" by Sexson. The public is welcome to view the free exhibit; all paintings are available for purchase.
The public is invited to view the new collection of 48 paintings by 8 local artists: Ellen Kelly, Charlotte Rierson, and Doris Sexson of Fairfield Bay; Carolyn Goettsch of Edgemont; Joyce Hubbard and Yun Kim of Mt. View; Diana Foote of Clinton; and Exhibit Coordinator Joyce Hartmann of Choctaw.
To view the art, check out the hallways near the cafeteria on the upper level and the outpatient wing on the lower level. Check at the Gift Shop for more information or to purchase any painting. A portion of each sale benefits the Hospital Auxiliary projects.
Featured work includes summer scenes, florals, summer activities, birds and butterflies, gardens and parks. A wide variety of media can be seen, including watercolor, acrylic, oil, walnut hull ink, Giclee, textured acrylic, scratchboard, and mixed media. Sizes vary from large paintings to tiny detailed ones, with affordable prices beginning at $15 to $350.
Exhibiting artists are members of the North Central Arkansas Artist League, which meets in Fairfield Bay to paint together, hold workshops, or watch demonstrations. Any person interested in art can join the League; call a member for more information or President Joan Bland at 785-979-5193.