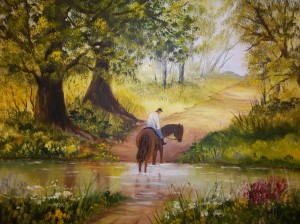 If you didn't make it last week to the art class being taught by artist, Doris Sexson, at the Education Center, you're welcome to start on Thursday, June 20 from 9:30 a.m. to 11:30 a.m,  All materials are available at the class for this five-week course.  If you would like to come or need more information, call the Ed Center at 884-4440 or Doris at 884-7602.
Future Art Class is Unique
If you have a painting sitting in your garage or stuffed under your bed that you can't use, this is your opportunity to make color changes to match your present decor. Doris Sexson will offer this unique class if there is enough interest. Call her today 884-6702.