Booster Club Golf Tournament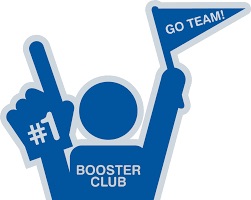 Your golf clubs are probably already polished and your bag organized from the other tournaments you've played in this year, so get out your calendar and check the date – Saturday, July 23 – to play in the Shirley Booster Club Golf Tournament at the Indian Hills Golf Resort in Fairfield Bay.
Get your team together, and then call the Pro Shop at 884-6018 to register for $50/per person or $200 for your team. Sign in for the 4-person scramble will begin at 7:15 a.m. with the shotgun start at 8 a.m. Hot dogs will be available at the turn.
The proceeds from this tournament help support the sports activities not funded by the school.
Indian Hills Golf Results
The Red, White and Blue Tournament held July 2 was a great time with 17 teams playing and a lot of great food. Thank you everyone who participated. The results for the tournament are as follows:
FLIGHT #1
1st place: 57 M. Carter, B. Carter, B. Ussery & T. Hardin
2nd place: 57 M. Jenkins, J. Doherty, A. Dukes & D Etter
3rd place: 59 R. Goforth, C. Long, T. Cook & J. Francis
FLIGHT #2
1st place: 64 A. Deller, E. Cumings, A. Halldorson & C. Halldorson
2nd place: 64 P.Wellenberger, G. Calaway, J. Calaway & M. Calaway
3rd place: 65 B. Forsland, D. Forsland, B.Bynum & G. Minton
The next scheduled golf tournament at Indian Hills Golf Resort is the Shirley Booster Club Tournament. The tournament date is Saturday, July 23, 2016, 8:00 a.m. shotgun start. This tournament is a 4 person scramble cost is $50 per person/$200 per team with hotdogs at the turn. Sign up in the Pro Shop. If you would like to sponsor a hole contact Rosie Owen at the city offices (501) 884-6500.
Tuesday 9 Hole Men's
1st place tie: 33 G. Sisson, J. Goodman, L. Raymond & T. Ahrens ~ B. Wiabel, E. Campbell, D. Reyburn & A. Deller
2nd place tie: 34 M. Collings, B. Shumann, P. Barone & B. Paar ~ R. Schuepbach, S. Wheeler & J. Christenson
Wednesday 9 Hole Ladies
1st place: 51 Linda Winters
2nd place: 53 Doloris Frosaker
Wednesday 18 Hole Ladies
1st place: +12 Cindi Bellrichard
2nd place: +7 Ginger Nicholson
3rd place: +6 Collene Halldorson
Thursday 9 Hole Men's
1st place: 33 M. Mullen, A. Deller, C. Lang & B. Paar
2nd place: 34 M. Krotz, A. Halldorson, E. Cumings & T. Ahrens
Thursday 18 Hole Men's
Flight#1
1st place: +6 Mike Doran
2nd place tie: +2 Bruce Forsland & Jeff Jenkins
Flight#2
1st place: +9 Tippy Smith
2nd place: +8 Ken Meseke
3rd place: +6 Rex Erickson
4th place: +5 Joe Mathis