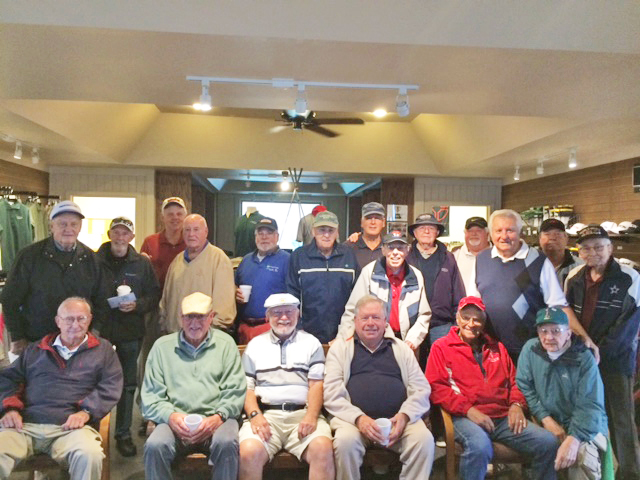 Above is a photo from the Tuesday Men's Golf League. Bob Wiabel (front center) has retired from the management of the Tuesday morning men's golf after 4 years .
Tuesday 9 Hole Men's
11/03/2015
1st place tie: 35 R. Schuepbach, E. Wallster, S. Wheeler & J. Chase ~ T. Welch, D. Ritchie, M. Krotz & K. Winberg ~ M. Mulen, E. Campbell & J. McKnight
Glo-Ball Results

We had sixty golfers brave the cool fall weather for our Glo-ball Event which was held Sunday evening, October 25. What a great turnout. The chili was made by Nancy Mueller and Gail Campbell. Everyone else brought either an appetizer or dessert. What a great selection of food!!! Thank you all for bringing something to share.
Front Nine
1st place – 29 Tom & Sherry Welch, Mike Dean, Jane Dean
2nd place – 29 Bob Reeves, Vonda Welke, Roger & Sue Schupbach
3rd place – 30 Rose Teer, Mac Mcley, Jerry McCabe, Cheryl Lowe
Back Nine
1st place – 31 Jerry Pape, Cecelia Scott, Roy & Susie King
2nd place – 32 Jeff & Rebecca Jenkins, Rex & Neva Erickson
3rd place – 33 Bruce & Diane Forsland, Larry Raymond, Jean Stone
We would like to thank Sherry and Tom Welch, Gail and Ernie Campbell, Toby and Diane Glyde for helping us make Glo-Ball the success it is. They have stepped up each year to help Glo-Ball grow and become a great event in the Bay!!
Wally and Nancy Mueller
Twilight Chairs
IHGA Annual Dinner
The Indian Hills Golf Association will hold the Annual General Membership meeting and dinner on Thursday, November 12 at the Little Red Restaurant at Indian Hills. Election of officers for 2016 and awards for 2015 golf champions will follow a dinner where the Little Red staff will provide a very nice selection of entrees. For dinner, you may choose from Bacon Wrapped Black Angus Sirloin, Pan Seared Salmon Cakes or Tuscan Grilled Chicken. Each has a special side dish to match the entrée. This, plus salad, coffee, tea and soft drinks for only $21, all inclusive. Dinner will be at 5:30 p.m. with a cash bar before. You may purchase tickets from any IHGA Board member or the Indian Hills Pro Shop. Please purchase before November 9 to give the restaurant time for ordering.
​