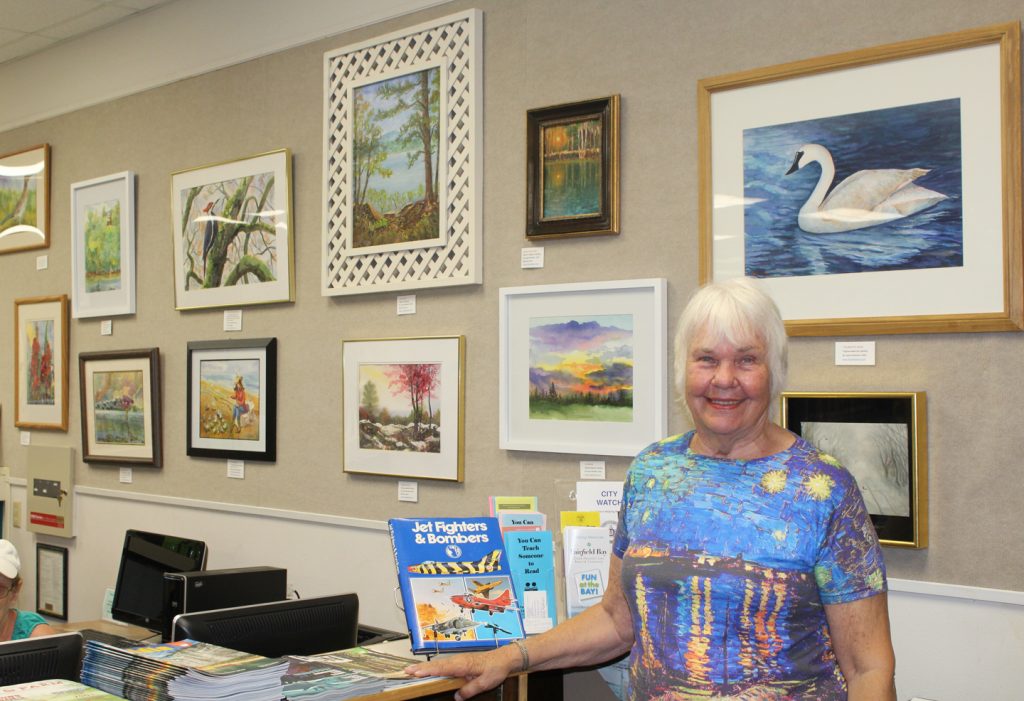 "High on Arkansas," a new, solo art exhibit of recent art work by Joyce Hartmann, Choctaw, is displayed through September 23 at the Fairfield Bay Library, 369 Dave Creek Parkway. The exhibit consists of about 20 framed oils, watercolors, and acrylics, along with about 40 unframed field studies and sketches. This display features local Arkansas landscapes and wildlife.
Recent award winners exhibited include "Best of Show" from Conway's League of Artists 2016 juried Spring Exhibit, two 1st-place award winners from the 2016 and 2015 Rialto Gallery's "Art for the Birds" show in Morrilton, and Best of Show winners in local and state fairs. This year, Joyce was also awarded signature status in the Midsouthern Watercolorists organization.
"As I look at my recent art, I can see most of it depicts wildlife and nature themes. My husband, Bob, was a biologist in Kansas for 35 years, and I illustrated KS. Fish and Game Magazine for several of those years…that background was a big influence in my subject matter. We still are both very interested in nature, and are active docents for the South Fork Nature Center. Bob is also President of the Little Red River Audubon Society.
My favorite career other than art were the years I spent teaching swimming and aquatics at Pittsburg, KS State University, and that has influenced my art, too; there's a lot of water in my paintings.
I owe much of my artistic diversity to painting each Monday morning over the years with the NCA Artist League in Fairfield Bay. The League is such a special organization for anyone who is interested in art. They hold outstanding workshops by nationally-known professional artists where members experiment with different techniques. When we paint together on Monday mornings, each member is so helpful and encourages artists of all skill levels. By painting regularly and experimenting, then hanging our work throughout the community, we practice and grow. We share materials, too. In fact, some of my oil paintings were painted on recycled canvases once belonging to Melva King, one of our League's founders who recently passed away. I could almost feel her spirit as I touched the same canvases with my brushes, painting my own completely different image on top of hers.
I appreciate all the art opportunities in this area, hope people enjoy my efforts, and also hope that others who are interested in art will join the friendly Artist League."
For more information about Joyce's art, check her website at www.joycehartmann.com and to join the Artist League, check with her or any member.