By Jim & Phyllis Wilkins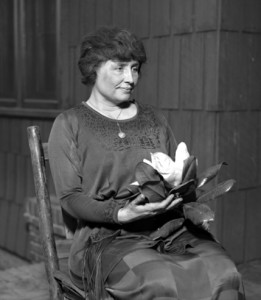 "In 1971, the Board of Directors of Lions Club International declared that June 1 would be remembered as Helen Keller Day. Lions around the world implement sight-related service projects on Helen Keller Day." (www.lionsclubs.org). "Born in Tuscumbia, Alabama in 1880, Helen Keller developed a fever at 18 months of age that left her blind and deaf. With the help of an exceptional teacher, Anne Mansfield Sullivan of the Perkins School for the Blind, Helen Keller learned sign language and braille. A few years later, she learned to speak. As an adult she became a tireless advocate for people with disabilities. And in 1925, she attended the Lions International Convention and challenged Lions to become 'knights of the blind in the crusade against darkness." Helen Keller Day is a commiserative holiday celebrated on June 27th as authorized by President Jimmy Carter in 1980 the 100th anniversary of her birth. That connection between Lions Clubs, Helen Keller and former President Carter continues as on May 15th the former President and Lions Clubs International announced and $8.8 million expansion of the Lions-Carter Center SightFirst Imitative to end suffering from major causes of preventable blindness. "The Lions' continued financial support will help the Carter Center, local Lions clubs and other national partners delete preventable blindness in some of the most affected communities in the world."
So whether we remember Helen Keller on June 1st of 27th please help continue her work by donating unused glasses for recycling, aluminum cans in our receptacles for youth programs, or attending an all-u-can eat breakfast or BINGO to assist our fund raising efforts. The Fairfield Bay Lions meet the 2nd and 4th Thursday of each month with dinner being served at 5:30 p.m. followed by a short meeting and guest speaker at 6 p.m. Area residents and visiting Lions are always welcome at our meetings and information on becoming a Fairfield Bay Lion member can be obtained by contacting Lion Jeanie Hooper @ 884-3202. All-U-Can Eat Pancake or Gravy and Biscuit breakfasts are held each Saturday and Tuesday mornings from 8 a.m. – 10 a.m. at the Lions Den on Dave Creek Parkway. BINGO is held each Saturday evening with doors opening at 5:30 p.m. and the first game called at 6 p.m. with a $1000 blackout jackpot opportunity each week.