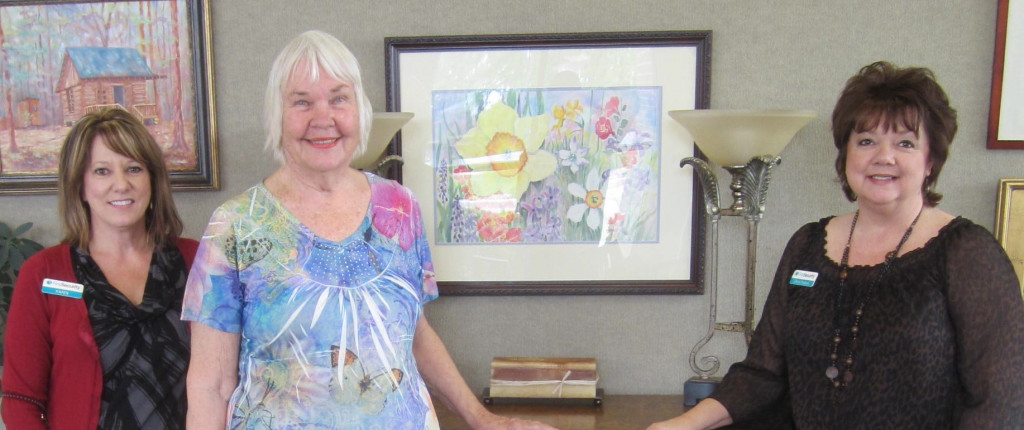 Artist Joyce Hartmann (in center) stands by her new solo exhibit at First Security Bank in Clinton with Vice President Cheryl Ragland (on the right) and Karen Kyle, Banking Center Manager/Loan Assistant. The public is welcome to come in and view the art during regular business hours.
Choctaw artist Joyce Hartmann has a new solo exhibit entitled "Mostly Local" at First Security Bank in Clinton. Many of the 14 watercolors, oils, and acrylics are exhibited here for the first time. All depict local subjects, such as Sugarloaf Mountain, the Marina at Fairfield Bay, the Riddle cabin at South Fork Nature Center, Choctaw Recreation Area, Buffalo River, Eglantine Beach, Greers Ferry Lake, spring flowers that are commonly grown in this area, and more.
Joyce enjoys painting en plein air, an artist's term meaning painting outside. She plans to add paintings during the summer as she gets more done, and welcomes suggestions for locations.
She is currently President of the North Central Arkansas Artist League as well as a member of Mid-Southern Watercolorists and Conway Artist League. More of her work can be seen at the Clinton Senior Center, on her web site at www.joycehartmann.com , or on Facebook.