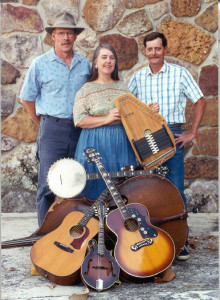 The HARMONY Band hails from Mountain View, AR…the heart and soul of folk music in Arkansas. Although Mary and Robert Gillihan have been "picking and singing" together for about thirty-five years, they did not actually become a band until 1988 when they were joined by Dave Smith. They have been "gigging" across Arkansas and outside of the state ever since.
Their tight, three-part harmony singing seems to be their strongest suit, although their mixture of eclectic instruments is most interesting. Robert Gillihan plays mandolin, guitar, bass, picking bow and harmonica and is lead vocalist. He began singing at eight years old in church in the Ozarks.
Robert's wife, Mary Gillihan, plays autoharp, bass and spoons. She began developing her beautiful voice in school and church as a youth in Eastern Illinois. She visited and fell in love with Mountain View and the surrounding area in 1973. She decided to stay. Shortly after she met and married Robert. They have been singing together since then.
Dave Smith moved to Stone County in 1972 at twenty years of age. He hung out at Lonnie Lee's house in Fox, AR, where old-time musicals were held where he was introduced to a variety of instruments as well as singing. He now plays guitar, fiddle, clawhammer banjo, button accordion, and piano in addition to lead and harmony vocal.
All three band members are performers at The Ozark Folk Center State Park in Mountain, AR, not only as a trio, but also as a duo (Robert and Mary) and as a solo ( Dave). This most interesting group is being brought to Fairfield Bay by the North Central Arkansas Foundation for the Arts and Education in association with the Arkansas Arts Council.
Please join us at the Fairfield Bay Conference Center (110 Lost Creek Parkway; Fairfield Bay, AR), on Sunday, September 21, 2014, 2-4 PM. Although there is no charge for the concert, donations are most appreciated. You will have a most enjoyable afternoon.