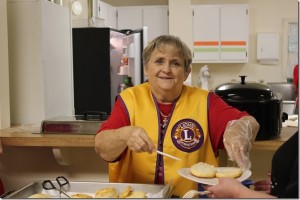 On Thursday, September 11, the Fairfield Bay Lions Club will celebrate its 45th anniversary with a special All-U-Can Eat Pancake and Biscuit and Gravy Dinner at the Lions Den on Dave Creek Parkway.
Forty five years ago on September 11, 1969 the charter establishing the Fairfield Bay Lions Club was signed by its first president, George Gisburne and a total of 53 charter members. In the succeeding years, there have been many local Lions Club presidents and members but throughout, our motto, "We Serve" has remained as the primary goal of the Fairfield Bay Lions. Our desire was and still remains one of service for the Fairfield Bay Community and the surrounding area. Many of our area youth have been served by the Lions Club sponsorship of Cub and Boy Scout Troops and others through the gifts to other youth programs. From the building of the Lions Den on Dave Creek Parkway to the completion of the Lions Amphitheater in Woodland Meade Park, the Lions have been active members of the Fairfield Bay Community.
We are inviting the community to join us in celebrating our anniversary on Thursday, September 11 at the Lions Den with an All-U-Can Eat Pancake and Gravy Biscuit Dinner from 5 – 7 p.m. Cost for the dinner will be only $3 per person or $5 per couple and youth under 12 for $1.50. Included are all the pancakes and biscuits with sausage gravy you can eat and coffee you can drink along with 2 sausage patties and a glass of milk. Extra sausage patties, milk and orange juice are available for a small, additional charge. So please come help us celebrate 45 years of service and enjoy a great meal at the same time.