by Jim & Phyllis Wilkins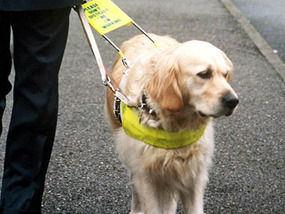 "Since 1939 Leader Dog for the Blind has operated one of the world's most respected and innovative guide dog programs. The free, 26-day residential training program welcomes clients who are legally blind, at least 16 years of age, have good orientation and mobility skills and are able to care for their dog. Founded by three Detroit-area Lions Club members in 1939, Leader Dogs for the Blind empowers people who are blind, visually impaired, or Deaf-Blind with skills for a life time of independent travel, opening doors that might seem to have closed with the loss of sight. Leader Dog operates entirely on donations from individuals, community service groups, such as Lions Clubs, corporations and foundations to fund our programs. We receive no United Way, state or federal funding." If you would like to consider making a donation to Leader Dog for the Blind please go to their web site at [email protected].
Please come and join the Fairfield Bay Lions for an All-U-Can Eat Breakfast of pancakes and biscuits with gravy on Tuesday or Saturday mornings from 8 – 10 a.m. at the Lions Den on Dave Creek Parkway. For only $5 for adults, $3 for youth 5 – 12 and children 4 and under free with paying adult, you can have all the delicious pancakes and/or gravy and biscuits you can eat. BINGO is held on Sunday evenings with doors opening at 5:30 p.m. and the first game beginning at 6 p.m. with a $1,000 blackout jackpot. The Fairfield Bay Lions meet the 2nd and 4th Thursday of each month with dinner served at 5:30 p.m. followed by a meeting at 6 p.m. with a guest speaker.
Our next meeting will be Thursday, June 26, when our speaker will be Mr David Deaton, CEO of Ozark Health in Clinton. Please come and join us for dinner ($7.50 with reservations by calling Lion Jeanie Hooper @ 884-3202)) or one of our fund raising events during the month.