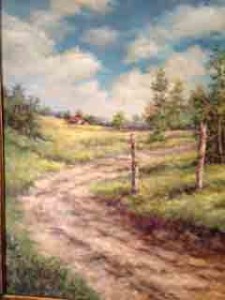 The art work of an Arkansan artist, Virginia Potter, is currently on display at the Indian Hills Club Gallery in Fairfield Bay. Many of her acrylic paintings are of Arkansas landscapes. Virginia was born in Quitman and continues to be inspired by the natural beauty of the land and its people. She developed a rich imagination as a child, visualizing people, events, and places as she listened to stories told by her grandparents. This ability has served her well over her lifetime as an artist.
Virginia has lived in the Conway area for many years and has found it to be a very special place to live. She thinks she'd be happy anywhere in Arkansas. She is inspired by the beautiful countryside, the roads and highways edged with fences and brambles and the wooded hills and rocky terrain. All of these have inspired her work, especially the areas near her like St. Boniface, Petit Jean State Park, and the Old Mill in Little Rock.
Virginia is excited by the series of oil paintings she is currently working on in downtown Conway. These paintings are all recognizable places which people pass by every day without noticing some of the unique views that make the town special. She is the artist in residence at Carmen's Art and Antiques on Oak Street in Conway, Arkansas. She also maintains a studio at Carmen's. She spends a great deal of time seeing the downtown areas through an artist's eyes and as she paints these familiar scenes, she has been amazed at the color she finds here and the beauty she sees all about her.
Virginia's art work will be on display through April 25, 2014. Please stop by and view these breath taking landscape paintings.
The hours of the gallery are the same as the Country Club. You can call to double check the hours, both afternoons, evenings, and weekends by calling the Club at 502-884-6001.
For more information call Kathleen Hadley, Gallery Coordinator at 501-884-7575 or
Leah Berry at 501-884-6288.