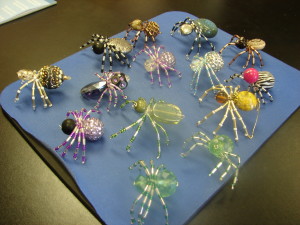 Attention investors: There will be an informative FREE seminar at the Education Center on March 5 from 2 p.m. to 4 p.m. with Kevin Feeler of Edward Jones. This class covers the basics of Investing. Kevin will take questions and can schedule another class if there is continuing interest.
Bejeweled Arachnids (spiders) as shown in the picture, are adorable, make a cute decoration on your desk, in your curio cabinet, as a small memento to give, as part of gift packaging, decoration for a flower pot…you can dream up other uses. Make your own personalized spider in an hour or less at the Education Center and the tuition is only $10. Then take your spider home with you. You will learn everything you need to know to start your own collection at home! Fran Schroeder designed this little project herself and will teach you how to do it, too.
Stained Glass classes begin in February. The three week sessions are already full, but you can sign up for next month's class. You will make a small stain glass project of your own to take home. The class is offered at the low tuition rate of $10! This includes the price of two tools you will purchase and take home with you for future use. According to Pete and Elisabeth, you will learn all the components necessary so you can continue on your own to do many more projects.
The Computer Basics class was postponed, but we now have enough students to move forward with this class beginning March 5 and running for 5 weeks total at a cost of only $35. Lee Phillips can teach anyone how to navigate and enjoy working on a computer.
A 1 day Ukrainian Egg Decorating class will be held on Saturday, February 1 from 1 p.m. until 3:30 p.m. or so. Chuck Dawson enjoys teaching others this beautiful decorative art. No special talent is needed. The class is only $25 and you will make something beautiful to take home.
These classes highlight a few of the advantages you receive when you become a registered student at the low cost of $25 annually. Once you have registered, you will be able to take advantage of all these classes for the tuition fee only. Call us today at 884-4440 or email to [email protected] .