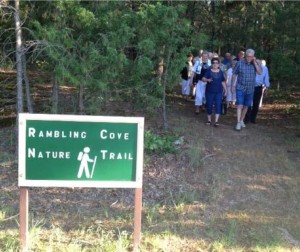 The City of Fairfield Bay is pleased to announce that Governor Mike Beebe has awarded a grant to the City in the amount of $35,000 for the construction of a Standard Health and Fitness Trail.
The trail will be incorporated into the existing Rambling Cove Trail (across from Stringbeanz and behind 'Razorback Rock'). The Standard Health and Fitness Trail will consist of a looped fitness trail consisting of a 6-8 foot wide asphalt surfaced trail approximately .25 miles in length that complies with the Architectural Barriers Act.
Act 1750 of 2001 established The Arkansas Trails for Life Grant Program which uses funds made available to the Arkansas Department of Health and Human Services through the Tobacco Settlement Proceeds Act.
This is an exciting addition to our health and fitness recreational resources available to our residents and visitors. This entire trail will have less than 5% slope and will be ideal for someone recovering from an illness or just trying to get into shape.
A special thank you to Nikki Owen for making the Google map of the trail.