Marguerite Dory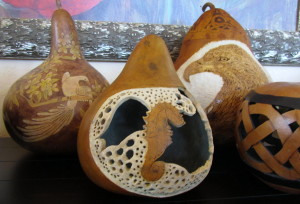 Gourds have played an important role in man's development since early humans became tool users. In addition to storing and transporting foods, gourds were used for food and as cooking and eating utensils, musical instruments, birdhouses, clothing and even currency. They also figured in religious beliefs and rituals and in the practice of medicine.
Today, as was true many centuries ago, gourd artists use various tools and techniques to decorate gourds. They include wood-burning, carving, leather dyes and stains, pigment powders and paint. Sometimes jewels and other items are embedded in the surface of the gourd.
Local gourd artists, Gay Coe and Gloria Wright, will demonstrate some of these techniques at the 2013 Van Buren County Master Gardeners' Plant sale Saturday, April 27, 8-1pm, Ed Leamon Park, Fairfield Bay, Arkansas.
The plant sale is held in conjunction with all day "Bloomin in the Bay" festivities, which include live folk music, puppeteers, arts and crafts, nature walks and concluding with an evening dinner and concert from 5 pm until 8pm.