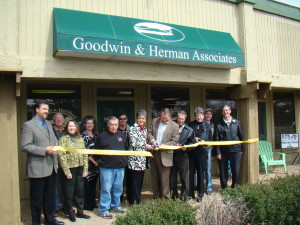 The Grand Opening/Ribbon Cutting/KFFB Live Remote was a great success at their new location in the Fairfield Bay Mall. It looked like a dreary day was in store but the sun came out to shine on the celebration. Bob Connell said it was one of the best remotes he's had in some time. The office was packed with well wishers and new and old customers. In fact, their very first sale was a lot on the Mountain Ranch Golf Course to Skip Kay. Skip came and joined in the festivities and was part of the ribbon cutting. Skip said they originally wanted a lot elsewhere in the Bay but after walking the property, they decided this was the perfect location for their log home. Freddie Huff, another customer, said her mom and stepfather bought a log home located on West Cliff in 2000. Everything fell into place and they were very pleased with the quality of service they received from Goodwin & Herman.
Goodwin & Herman Associates wants to thank our valued clients for their support for the past 15 yrs. It was great to see over 300 of our clients and business associates at our open house on March 21. A big thank you to Bob Connell for being a part of our celebration. Over 242 hot dogs were served!
We were overwhelmed by the enthusiasm shown by all of our visitors. Everyone is excited about what is happening in the Bay! Our thanks go out to Mayor Paul Wellenberger, County Judge Roger Hooper, and members of the Community Club Board of Directors who attended. Also in attendance were representatives from Community Water, Petit Jean Electric, Ozark Title Services, Wyndham Resorts, the Fairfield Bay Chamber of Commerce, our local banks and various other business in the Bay.
Goodwin & Herman Associates are proud to have offered the best and highest quality real estate service in Fairfield Bay for 15 years … and counting.