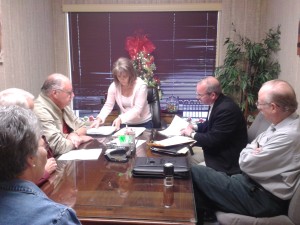 On December 20, 2013 Closing papers were signed finalizing the sale of the former Volex Building a (140,000 sq. ft. facility) from Van Buren County to Global Foods.
Renovation and construction has started with plans for limited production by April and completion by mid year 2014. Plans are to ramp up gradually and be at employment goal of 220 in next 5 years.
The sale is a completion of over a (2) yearlong effort by many individuals and groups.
As County Judge I would like to thank the following: Robbie Brown and Danny Thompson for their entrepreneurship, patience, willingness and faith to start a food processing facilities in Van Burn County.
Many local citizens and groups for their help: Clinton Mayor Roger Rorie, Don Richardson, David Deaton, Daryl Moore, Donnie Collins, Van Buren County Quorum Court, Clinton City Council and Sonya Washington (Cannady Abstract) to name just a few. Van Thomas and Mitzi Hargan (White River Planning and Development District) for their advice and assistance. Governor Mike Beebe, Governor's Staff, Arkansas Economic Development Commission, Arkansas Development Financial Authority for their wise counsel and financial assistance. Pete Giovannini for his efforts working with purchaser of property, state agency, and most of all being patient and faithful to the project.
We wish Global Foods well in their business and look forward to further economical Growth in Van Buren County.