Eleanor Hilsenrath, Plant Sale Chairperson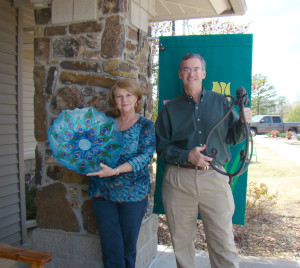 Mayor, Paul Wellenberger, and Master Gardener, Linda Pratt, want to show you a sample of the five fabulous door prizes to be offered at the Van Buren County Master Gardener Plant Sale on Saturday, May 10. Mark your calendar NOW and plan to join us. The 11th Annual Plant Sale, 8-1, Ed Leamon Park, Fairfield Bay is event # ONE of a fun filled day, ending with a NCAFA&E concert at the new Our Town Conference Center in the evening. A surprise at the plant sale will be a fairy garden display on the potting bench near the garden shed. It has not been marketed with all of the publicity, since the idea and the reality are still far apart. The plan is for two of the fairy garden cottages to be given to the Education Center for the Silent Auction at the Conference Center on May 17.
Thirty plus vendors will be at the sale, so plan to do more than shop for plants. Food vendors Jack's, the Presbyterian Men and Wade Lucas Farms will be there. St. Francis will be there with a bake sale. The musicians for the evening concert will be there too, entertaining us all while we shop. Of course, as you have seen from the publicity posters, the real celebrity will be Janet Carson, our State Horticulture Specialist. Looking forward to seeing you all there.