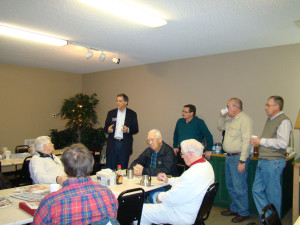 French Hill is running for Congress and he made a stop in Fairfield Bay on Tuesday, January 28, 2014 at Jack's on Dave Creek Parkway. In spite of the cold morning quite a few people showed up to listen and ask questions.
A ninth generation Arkansan, Mr. Hill has devoted himself to building central Arkansas as a premier place to live, work, and raise a family. After a successful career with Arkansas's largest financial institution, in 1999, he founded Delta Trust & Banking Corp., a banking and investment business headquartered in Little Rock. He serves as a chairman and chief executive officer. Delta Trust has grown from an idea on paper to a business employing over 130 bankers, trust, insurance, and investment advisors across ten offices in the state of Arkansas and with customers across the country.
In addition to his business endeavors, Mr. Hill is generous with his time, serving many civic organizations including service as a trustee of the George W. Donaghey Foundation, benefiting the growth and development of UALR; a board member of the Quapaw Area Council, Boy Scouts of America; past president of Fifty for the Future; past president of the Rotary Club of Little Rock; past board member of the Little Rock Catholic High School Foundation; a commissioner of the Historic Arkansas Museum; and he is serving as the 2013 chairman of the board of the Little Rock Regional Chamber of Commerce.
Mr. Hill and his wife Martha have two children, Liza and Payne, and they attend the Cathedral of St. Andrew Catholic Church. Mr. Hill is a 1975 graduate of Little Rock Catholic High School and a 1979 magna cum laude graduate in economics from Vanderbilt University in Nashville, Tennessee. Prior to his return to Little Rock in 1993, Mr. Hill was a senior economic policy advisor to President George H.W. Bush and served as Deputy Assistant Secretary of the U.S. Treasury. For his service as the Treasury and White House, he was awarded the Treasury's Distinguished Service Award in 1993. Working with the late Senator John G. Tower, Hill served as a senior legislative aide on the U.S. Senate Committee on Banking, Housing, and Urban Affairs from 1982 to 1984. Mr. Hill is a passionate outdoors-man, and he actively enjoys hunting, fishing, canoeing, camping, and backpacking in the Natural State. He is a Life Member of the NRA and the Ozark Society as well as a member of Ducks Unlimited. He is a past south central section chair of The American Alpine Club.