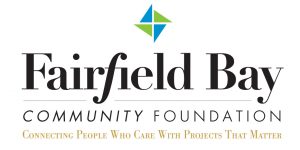 You can support the Fairfield Bay Community Foundation when you shop On-Line with Amazon. We registered the Foundation as a donor option in mid December. We were a bit late for the Christmas shopping splurge, but several of you did designate your "free money" funds to come to the Foundation. Our first check was for $5.45. While that may seem small, just imagine what a year's worth of Amazon purchases by Bay residents might yield.
When shopping on line, Amazon will donate 0.5% of the price of your eligible AmazonSmile purchases to the Fairfield Bay Community Foundation.  AmazonSmile is the same Amazon you know.  Same products, same process, same services.  Just Amazon's way of supporting charities that are important to you.
Support the Community Foundation by starting your shopping at smile.amazon.com and selecting "Fairfield Bay Community Foundation" as your charity.  If you have difficulty finding "Fairfield Bay Community Foundation" in Amazon's list of eligible charities, simply enter  https://smile.amazon.com/ch/71-0584915 as your selection.
Please alert your family and friends to this simple, but effective way of raising funds to support your foundation. Another source of "free" money to grow our foundation.
www.fairfieldbay.community
Mike Doyle, Executive Director
[email protected] or 479-871-7281