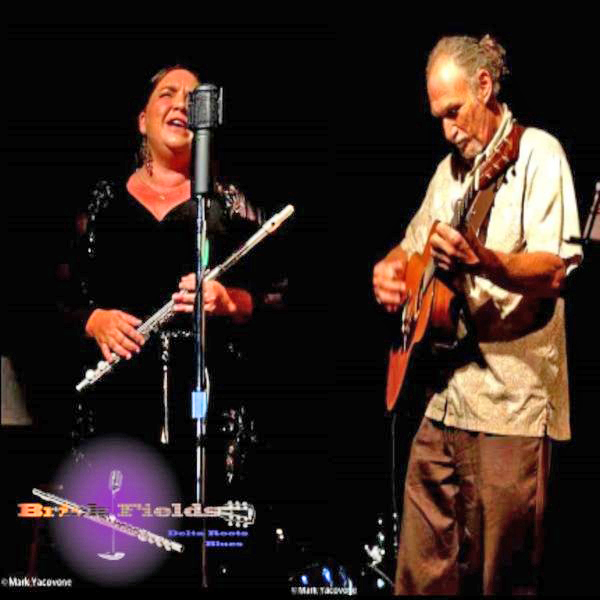 Rachel Fields, a multi-talented musician born in Pine Bluff, AR; became accustomed to hearing her "nanny" (Ms. Marcella Jackson) singing Gospel and African American Traditional music to her at the age of two and three years young. Rachel then began singing to and entertaining her own family at the young age of three and four years. She has sung in various venues across the United States, from bars to churches, and met her husband, Larry Fields, in Eureka Springs, AR in 2006. Of course they were both doing music and thus was born "Brick Fields."
This couple's original music has roots in Blues, Gospel, Folk and Roots. Larry's anointed guitar sound compliments Rachel's soulful voice, flute and rhythm guitar in a most unique way which deeply touches the audience.
"Brick Fields build a worshipful House of Blues with a steeple on top!" says Doug Hill of the Norman Transcript.
"If you don't like the blues, she'll make you like it!" says 11 year old Alivia, from Fayetteville, AR.
"Just like old fashioned medicine, we all need a taste of this invigorating music," says Ronnie Templin, a blues enthusiast of Oakland, CA.
Please join us for a most interesting and inspiring concert at 6 p.m. on March 11 at the FFB Conference Center, 110 Lost Creek Parkway. The event is sponsored by the North Central Arkansas Foundation for the Arts and Education as well as by the Arkansas Arts Council, and is a no charge event. However, donations are encouraged and will be cheerfully accepted at the Conference Center. We look forward to seeing all of you there.