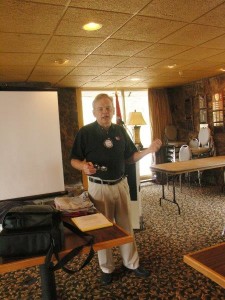 At Rotary, we have a new Fairfield Bay resident and member: Thom Dillon. We are always delighted to increase our membership, particularly when the new member has an unusual life and professional story.
Thom Dillon spent the final nine years of his career as a television producer, working for the National Basketball Association's national cable television network, NBA-TV. From the autumn of 2000 until the end of the 2006 season, he was in charge of providing highlight packages and other video feeds to NBA contractors, including AOL, Yahoo and CBS sports line. The next two seasons he produced a live, nightly, 30-minute, NBA-TV program directed to fans who participate in fantasy basketball leagues. His final season, with the Association, was spent in Oklahoma City as a senior producer helping the OKC Thunder start up and run their broadcasting division. He left the NBA in 2009.
In his address to the Fairfield Bay Rotary on Wednesday, February 19, Thom described the fun and fulfillment of working with famous basketball players, as well as nationally known sports anchors and analysts. He also described the long hours and "controlled chaos" of producing live television.