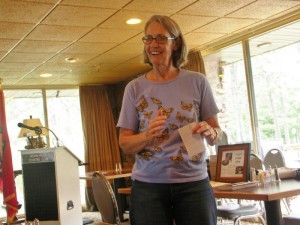 It is pleasant to listen to a noncontroversial story for a change. Ruth Andre was raised in Wisconsin. Ruth was a Biology Technician at Cape Romaine Wildlife Refuge, South Carolina and the Northwestern Hawaiian Islands Refuge, and learned a lot about butterflies. We all know there are many species of butterflies with magnificently colored wings. They are so lovely to look at and therefore, have our admiration and love. I did not know that various species lay their eggs on specific bushes of their choice, migrate in accordance with their own program and know exactly where to return to create the next generation. (I would need a GPS to find my way). The nervous system of these butterflies has capabilities the rest of us do not.
Ruth Andre got a bachelor's degree in Environmental Education at Utah State University, then a teacher Certification from Northwest Nazarene College in Nampa, Idaho. She worked at the Cape Romaine Wildlife Refuge in South Carolina and the Northwestern Hawaiian Islands Refuge. Finally, Ruth taught at the St. Joe Schools, St. Joe, Arkansas for 25 years.
The presentation she gave at our Rotary Club could be called "Butterflies 101" because it briefly touched on several basic butterfly topics. It began with an introduction to 8 of the most common and easily seen butterflies in Arkansas.
The eight species were; Zebra Swallowtail, Eastern Monarch, Eastern Tiger Swallowtail, Giant Swallowtail, Great Spangled Fritillary, Eastern Tailed-blue, Common Buckeye and Pipevine Swallowtail. Then she shared some basics about anatomy. Ten easily seen body parts and their functions were described. The four life stages of butterflies showed the steps of complete metamorphosis.
A butterfly's life begins as an egg. After the egg hatches, the caterpillar grows through 4 molts before attaching to something to pupate. When pupation culminates, the covering of the pupa cracks open allowing the adult to emerge, fill its wings and fly away.
There was a quiz at the end of her talk, it became something more like an open book oral experience – very fun. But I think that everyone learned at least three new species names. That's great.